We've got news. We received word from HubSpot that we are now a Platinum Partner Agency and we couldn't be more excited! We got a trophy and everything.
Being a HubSpot Partner Agency means we, as an agency, have passed the necessary certification programs, proven monthly recurring revenue (MRR), retention, software engagement and actual inbound marketing success when it comes to ourselves and the clients we manage.
But, enough about us. Let's talk about you. Maybe you're a marketer, President or CEO of a business or maybe you're just curious about why we're hyping up this whole marketing automation thing. Let's get down to it!
What Is Marketing Automation?
Too often we hear 'email marketing' used interchangeably with 'marketing automation'. This is not correct. Email marketing and automated email is encompassed under what you can do with marketing automation but is in no way the same thing. HubSpot defines marketing automation as a "software that automates your marketing for you."
To put it simply, it's a way of prioritizing and executing your marketing strategies and corresponding tasks in a more efficient and streamlined way.
Benefits of Using HubSpot As Your Marketing Automation Platform
HubSpot creates the backbone for your digital marketing ecosystem. Using a structured and strategic marketing automation platform like HubSpot allows you to streamline your marketing efforts and make you and your teams more efficient. But the benefits don't end there. Here are our top 4 reasons we encourage clients to use HubSpot marketing automation software:
Efficiency
Whether your team of 7 or a team of 700, HubSpot enables your team to squeeze more juice out of the hours available and remain engaged and focused on what they do best – creating revolutionary content and strategies that propel your business forward.
Instead of manually posting to social each day, marketing automation tools allow you to automate the process. Taking it a step further, you can schedule social posts, email campaigns, blogs and landing pages all within one single platform which saves your team time when it comes to creating integrated campaigns.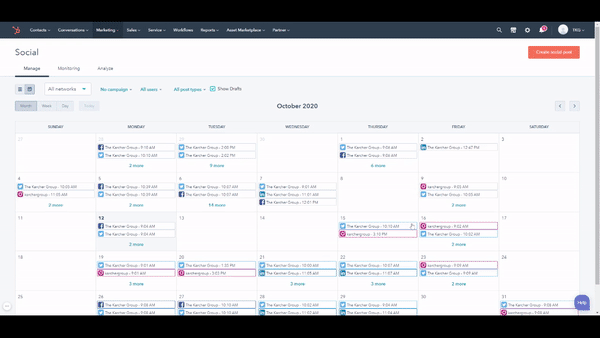 With the help of HubSpot, what once took days, takes hours and what once took hours, takes minutes.
Personalized Marketing Strategy
When you use HubSpot, you can view all points of contact a visitor has with your brand. It allows you to see first-hand what is working and what isn't all in one place.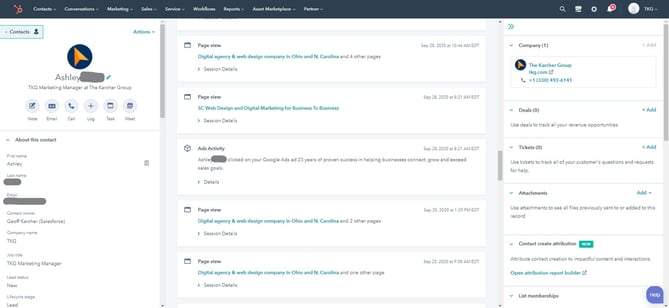 Since HubSpot allows you to view all points the contact makes throughout their process, you have the right information to make strategic changes. You have access to what is working all in one place and the opportunity to automate marketing and sales items for efficiency.
Scalability
When a client uses a platform like HubSpot, we are able to offer services more efficiently and see how they work together. This also provides us with the transparency into marketing efforts and ROI that we can easily share with clients.
Is Automation Right for Your Business?
Considering leveraging the power of marketing automation for your business? If you agree with any of these statements, it might just be time to take the plunge into the world of marketing automation:
I want my website to generate more leads and to be able to track those leads in-depth using tools like lead score, lead management and triggered actions

I have a large contact database that I am not currently engaging with regularly

I don't have visibility into how leads are finding me and my business

I am unsure of where my leads are converting on my website

I need a way to segment my contacts for more personalization in my marketing efforts

I am currently using multiple platforms to execute my marketing efforts

I would like to see a better handoff between my marketing and sales team so we can better track results
Before you go out and call HubSpot for pricing, etc. we feel it's important to note that automation is a long-term strategy, so there's a need for a lot of content creation and initial setup before it will start working on an ongoing basis. Also, marketing automation platforms are something that users should be excited to use and add too consistently - it's not a set it and forget it software. The system is meant to be actively updated, tested, and optimized.
Let's Wrap This Up
HubSpot can be a great resource for businesses looking for increased efficiency, alignment between sales and marketing teams, scalability, more in-depth reporting and personalized marketing strategy based on real-time analytics.
Being Platinum HubSpot Agency Partners, we are partial to the capabilities and services HubSpot has to offer but have worked in numerous other automation platforms. Looking to see the pros and cons of other top automation platforms? Check out our blog post, 5 Best Marketing Automation Platforms of 2020.
Need help creating a digital strategy, integrating your current strategy with an automation platform or determining if automation is right for you? Let's talk.