You don't have to read this blog post to know the past year was one of the craziest of all time. Just like the rest of the world, we worked from home, attended countless Zoom meetings, made whipped coffee and watched Tiger King, but most importantly, learned just how important our roles as digital marketers are.
Throughout the year, we came to truly appreciate the privilege of living in an advanced digital age. It allowed us to stay connected to our clients and continue to provide them the full support they'd come to expect from us.
Don't get us wrong, we love in-person marketing, but if 2020 proved anything, it's that digital marketing is more important than ever. Staying connected digitally is an incredible way to interact with users and support traditionally in-person marketing efforts.
Social media is more powerful than ever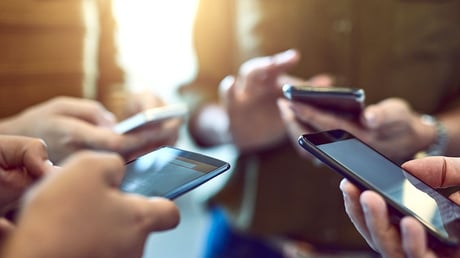 Social media marketing has been on the rise for years now. While most brands have caught wind of the importance of utilizing social as part of their marketing efforts, many fail to develop a strong social media strategy – or one at all.
Social media management is more than just posting memes and replying to comments here and there. It requires strong content creation, proper planning and close monitoring by a communications professional. With a well-thought-out social media strategy, any brand can use it to their advantage.
Live streams are here to stay
The use of live streaming naturally skyrocketed during the pandemic and is here to stay. Gone are the days of needing to secure catering, a venue and more for every event. While you shouldn't use live streaming for all your events, it's a great way to cut some costs for a few and ensure those who are invited from other locations don't have to miss out. The best part? Live streams can be used for just about any event, from auctions to recruiting events and even performances.
Video content is now a necessity
The hard truth is that our attention spans are getting shorter and shorter. So short that some have even said most humans have a shorter attention span than a goldfish. Most people don't enjoy reading lengthy posts (We're surprised you got this far. Give yourself a pat on the back!) but would rather receive that information in the form of a video.
With many brands trying to recover from losses over the last year, it's important to stay ahead of the competition, and you can by utilizing video. It's important to note that every video project doesn't have to be a full production (although it's a smart move to have some professional content). Anyone with an iPhone or a nice camera can contribute to making great video content.
User-generated content is key to trust
The pandemic has made online shopping an essential part of people's lives. Online shopping = looking through dozens of reviews. Now more than ever it's important for a brand to have strong reviews from happy customers directly on products, on their website and on social. Know a customer personally? Ask them for a product review or testimonial to use for marketing purposes.
Digital is no longer the way of the future, it's now
In the end, marketing isn't easy. Luckily, we have over 20 years of digital marketing experience. So, it's safe to say we're kind of experts. Whether you've never worked with digital marketing or need to up your strategy, TKG has got you covered. Contact us to start a conversation.