3 things you didn't know you could do with HubSpot
We all know we can use workflows for basic things like sending a series of emails after someone has downloaded a piece of content from your website. However, HubSpot's automation tool can be used for so much more.
Advanced Automation - Marketing Hub
Build and segment your contact lists

Using data already in your CRM, segment contacts into lists that automatically update when contact records change

Change or update contact properties

Depending on contact activity, update your contact properties to the most relevant information

Triggers and notifications based on lead scores

Create lead scores based on contact activity that triggers new marketing efforts or send notifications to sales teams

Automatically assign leads to sales

Using workflows to automate data changes, create segmentation for personalized communication and send timely notifications will help marketing and sales teams create a better experience for your contacts.

Send customized internal notifications

Customize internal notifications sent to your team with personalized contact tokens, letting your team get the most applicable information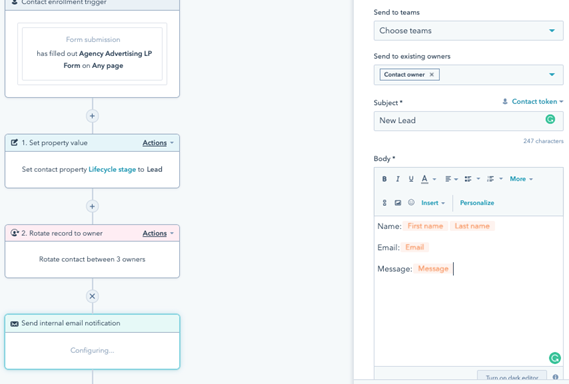 Full ROI Reporting - HubSpot Campaigns
The question I am most often asked is, "How can I tell all of my marketing efforts actually equal sales?"
Using multiple marketing tactics and complex strategies often means pulling data from several sources and trying to match that data to your sales data.
Since Marketing and Sales Hubs are built on top of HubSpot's CRM, all your data is connected.
Using the Campaigns tool, you can easily track marketing efforts by adding marketing assets (blog posts, social, forms, ads, CTAs, emails, web pages and workflows) to a specific campaign and automatically see influenced contacts and sales.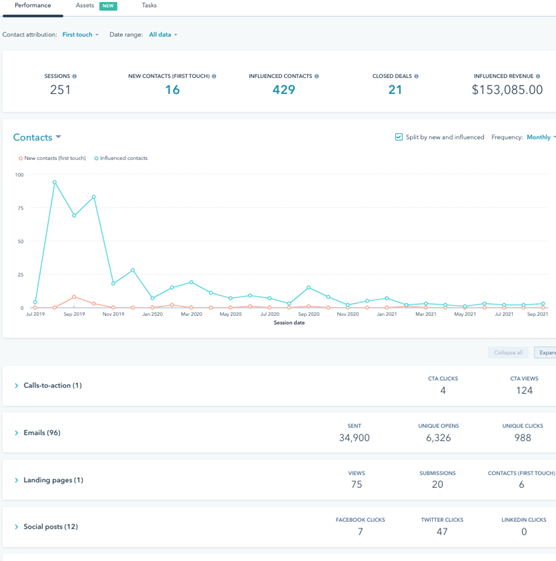 One big benefit of this is real-time reporting. All your marketing channels are feeding into one place, allowing you to have a central place to manage and see the overview of your campaign. Since your marketing assets and sales data are actively linked, you can report and optimize based on real-time performance.
From within the campaigns tool, you can collaborate with your team using the commenting and task features and easily build, update and execute each connected marketing asset, all in one place.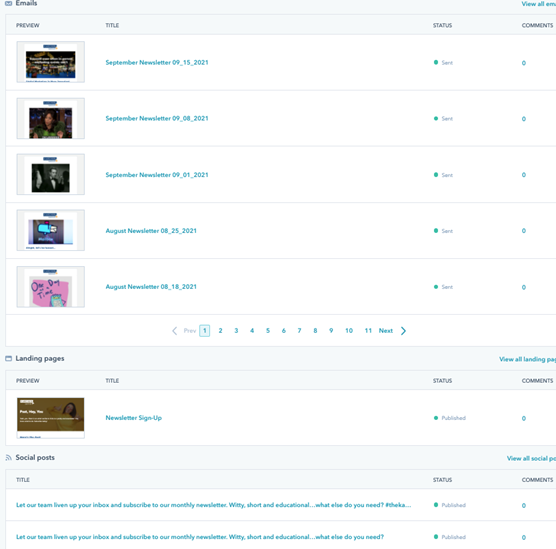 Monitor Outside Sales Reps - Sales Hub
We spend a lot of time setting up Sales Hub to create an all-in-one resource for working leads, tracking progress and tasks and creating deals for sales teams. Usually, because there is so much information available on lead or sale activity, this process is thought to only be useful for inside sales teams.
Many clients do have outside sales representatives. These outside sales teams also need management and reporting.
HubSpot offers very specific permission options at both user and team levels. Many clients with large outside sales resources use these permission levels to create rep accounts that only allow for viewing "owned-only" object information.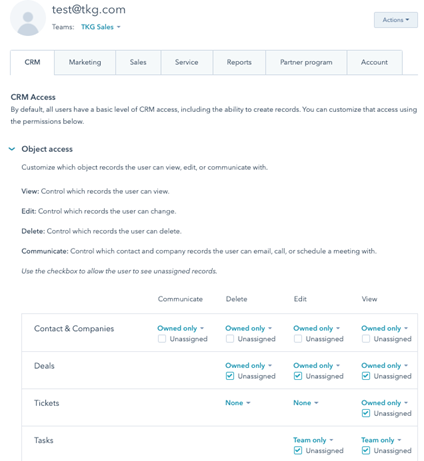 This means when a rep is logged in, they can view their own contacts and deals but not see the information a company wants to keep private like inside sales, marketing or reporting.
The most common use is creating workflows to auto-assign contact owners to leads as they come in and then automatically routing the lead to the rep. When a rep logs in to view the contact information, they only have access to their assigned leads.
Allowing reps to use HubSpot at varying levels is extremely important and beneficial. Sales reps can gather more information on leads, keep track of activity and seamlessly have that information stored. No more back and forth between emails and systems!
At different permission levels, you can allow for adding contacts or deals as well. This helps companies track both inside sales teams and outside sales teams in one place for complete forecasting, goal monitoring and sales reports.
Interested in learning more? Click here to contact us!