Marketing and sales teams have repeatedly run into the issue of misalignment.
Although both departments share one overall goal of generating revenue for their company, the strategies and success metrics they use are often quite different which can lead to disconnection.
So, how do you ensure your sales and marketing teams are aligned? The answer is to make sure you have a unified Sales Enablement Strategy in place.
Sales enablement is the process of providing your sales team with the right resources they need to close more deals. Essentially, you are providing what the sales team needs to successfully engage the buyer throughout the buying process.
Both Marketing and Sales teams should "own" your Sales Enablement Strategy. Marketing needs to provide sales reps with a variety of resources that they need to effectively sell. Sales reps need to share this content with leads and customers to help them decide whether they want to convert. Sales then can communicate with marketing about which types of content and materials are missing and what they would like to share with leads throughout their process. This way, marketing can create and share those new materials with reps to allow them to reach customers and sell more effectively.
Since sales and marketing both own sales enablement, they both impact your business's overall Sales Enablement Strategy.
How does this impact your business?
The Flywheel is a model adapted by HubSpot to explain the momentum gained when an entire organization aligns around delivering a great customer experience. To be successful, a business must adjust its strategies to focus on that momentum (or lack of momentum) to drive referrals and repeat sales and keep your business "spinning."
The 3 phases of the flywheel include attract, engage and delight, which all center around growth.
In the attract phase, you attract new contacts with useful content and make it easy for them to learn about your company. Think SEO, social media and targeted advertising.
In the engage phase, you focus on relationships - using website and email personalization, contact database segmentation, marketing and sales automation.
In the delight phase, you are helping and supporting customers while continuing to solidify that relationship. This is done in a variety of ways like using self-service options - knowledge bases, chat bots, or providing great customer service using chat, messaging, email, or ticketing systems.
Through delighting your customers, you create promoters which help attract new leads and the Flywheel keeps moving.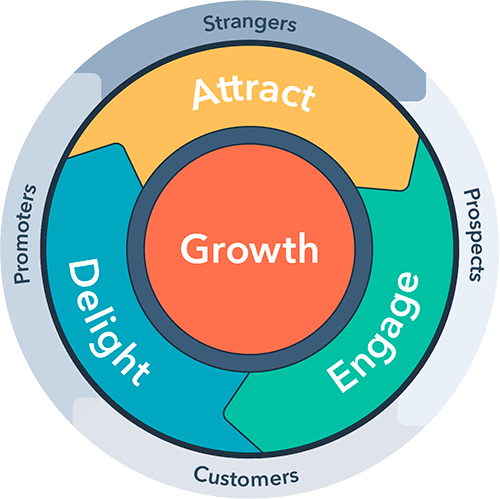 As you can see, with this model, it's very important to align marketing and sales teams to create cohesiveness.
To align your teams using a Sales Enablement Strategy and the flywheel model try:
Asking your marketing and sales team to create a buyer persona together.
Documenting all content gaps along a buyer's journey.
Making sure you have a way to keep track of every interaction leads and customers have with your company.
Always being customer-centric with your language.
How can HubSpot help align your teams?
HubSpot is an all-in-one solution that can provide businesses with a complete look at marketing and sales together and houses all your contact database information. It connects all your sales and marketing efforts so cross-team, sales enablement collaboration is possible.
Key Benefits:
Personalized strategies and automation
Automated prospecting, lead qualification and segmentation
Accurate and standardized reporting
Efficiency and scalability
Using a platform solution like HubSpot creates the backbone for your digital marketing and sales enablement ecosystem allowing you to streamline your marketing and sales efforts and make your teams more efficient.
Interested in learning more? Click here to contact us!