Search engine optimization is one of the most affordable forms of advertising and produces an exceptionally high return on investment (ROI). The chart below compiles basic advertising costs to provide you a comparison to the overall cost of a search engine optimization campaign. You can easily see that the cost of SEO, while not always the least expensive form of marketing, is very often the most effective, giving you a much lower cost per conversion than other forms of advertising.
Other considerations when comparing SEO vs traditional advertising. SEO works for you when potential customers are seeking out your products and services 24x7x365. Billboard advertising for example, works well if you get the right visibility at the moment of need. That doesn't fit neatly into an advertising cost comparison chart, but it's something you've got to consider.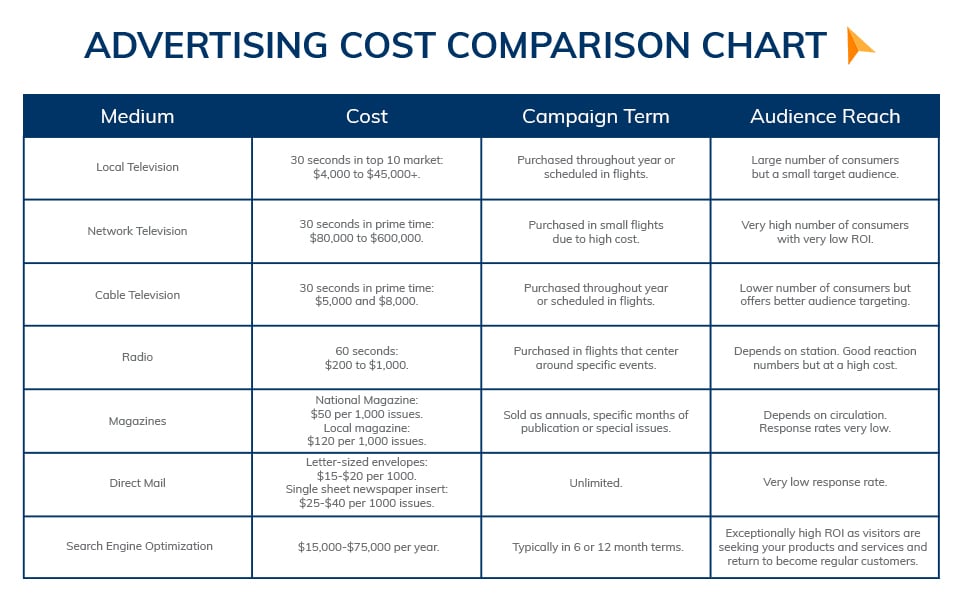 Here is a great video that shows how much advertisers are paying to get their message in front of people. We think you'll agree that SEO provides far better ROI than common alternatives in traditional advertising.
Need help getting the most out of your marketing budget by leveraging SEO? Contact us today.