When it comes to HubSpot, it may be easier to list the things it cannot do than the things it can do. This incredibly powerful CRM (customer relationship manager) platform can take your business to the next level. It offers a variety of tools and integrations to better reach and connect with your customers. And after two years of a global pandemic, developing relationships with your clients and potential customers is more important than ever.
HubSpot has five Hubs that work together to help your digital marketing and sales teams elevate your business relationships. The Hubs are Marketing, Sales, Service, CMS, and Operations. You can use one or you can use them all. But, the more you use, the more integrated your experience will be.
Let's use these Hubs to break down the top 5 reasons HubSpot can help you nurture relationships.
Nudge Clients Through Customer Journey
Marketing Hub
HubSpot's Marketing Hub has a variety of features, such as real-time SEO tips, social media scheduling, landing pages, robust analytics, email automation, and more. Like… a lot more. Using these tools as part of your marketing strategy can help you increase both traffic to your site and conversions.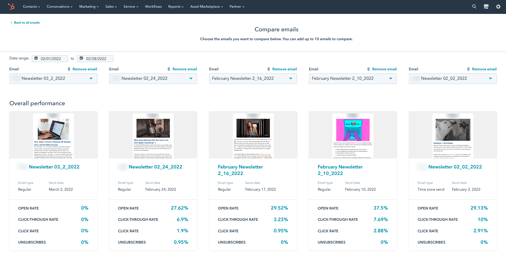 When it comes to relationships with your customers, you can log all your contact points with them within HubSpot. The CRM will automatically organize these touchpoints so you can reference them to make better marketing choices.
One of the best ways to nurture your relationships is through workflows and automated email marketing. You can set up a variety of paths your clients can take based on their individual customer journey. This ensures that no one is forgotten about after coming into contact with your business and that each customer gets specific communications that speak directly to their needs.

Instant Answers & Getting More Time Back
Sales Hub
The Sales Hub also offers email automation. However, it also offers meeting scheduling, automated lead selection, organized sales rep assignments, and live chat, which is very exciting.
Live chat allows you to add a widget to your home screen that lets website users chat with a robot equipped with answers to frequently asked questions or a live person on your sales team (especially during working hours). The ability to instantly connect with a customer will help move them through your sales funnel more efficiently. The instant satisfaction they get from having their questions quickly answered will tickle their dopamine and paint your brand in a favorable light.
Your sales team will appreciate this hub's ability to streamline and automate time-consuming activities. Since your sales team won't be as focused on the organization and tracking of leads, they can instead focus on better communication with your clients. They can nurture relationships through email and phone calls or discover new automated marketing segments to set up with the time HubSpot has saved for them.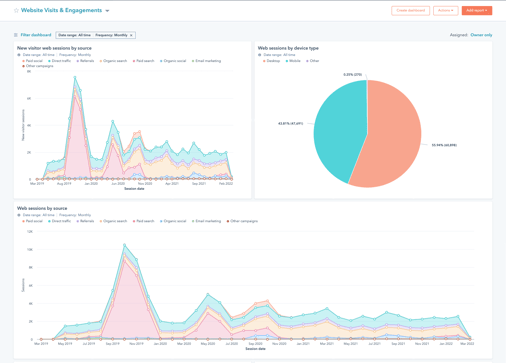 Better Customer Experience
Service Hub
The Service Hub can help you take your customer experience to the next level. This hub offers customer service software that allows you to provide first-class support. You'll go from a boring FAQ page to a more robust customer service experience. Which is great because consumers want to talk to real people more and more.
Authenticity has been a buzzword in social media the past few years. But it's creeping into every other aspect of marketing these days—especially with two years of a pandemic that has changed the way people shop and interact with brands. Your clients want to know who is behind your services and products—and they want a premium customer experience. Customers are smarter than ever before, which is why they demand more from businesses. HubSpot's Service Hub can help you rise to the occasion.
Create a Streamlined Website
CMS Hub
HubSpot describes their CMS Hub as "premium content management software for building a powerful website that converts." But if you want our honest opinion… We agree! The CMS Hub has blog and content creation tools, search engine optimization tools, security monitoring, and more.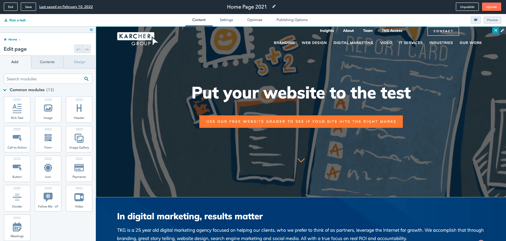 Their webpage creation tools are incredibly easy to use. They offer templates you can use hot off the press or adjust for your needs. Your website visitors will be impressed with the look and feel of your site. The only thing you'll have to stress about is creating great content and media to add to the site.
If people are newer to your brand, they may not want to reach out or purchase a product right away. Having a streamlined, user-friendly website filled with helpful content will help kickstart their journey to becoming a loyal customer.
Build on a Solid Foundation
Operations Hub
All of the Hubs we've discussed would not even matter without fantastic operations software that glues it all together. The Operations Hub does just that. This is where all your data gets synched, team permissions are set up, automated programs are added, and more.
You might be wondering how this helps with building relationships. Well, think of it this way. When you start dating someone, you might go out for drinks, enjoy dinner, see a movie, and go for a walk as you learn about one another. But to do all that, you need a bar, a restaurant, a movie theater, and a park. The Operations Hub is the foundation your relationships will be built on. It's the part few people see, but it's critical for everything else to run smoothly.
Ready to Improve Your Relationships?
Are you getting excited about the possibilities HubSpot offers in nurturing relationships? At The Karcher Group, we can help you use HubSpot more effectively and efficiently or get you started on the platform and migrate information over.
Contact us today to discover how HubSpot can help your customer relationships.