Receiving a request for quotation (RFQ) is an absolute requirement of the sales process if your company's solution or products must be designed uniquely or customized to fit customers' requirements. For this reason, on B2B – business to business – websites, receiving an RFQ directly from your website is the holy grail of lead generation.

But what about people who arrive at your website still in a discovery or evaluation phase of their buying journey? Those visitors are not close to issuing an RFQ. Some are evaluating options and assessing your capabilities but may be reluctant to fill out a form or call you.

Still, they likely have unanswered questions.

Live chat can be a simple-to-use tool to help fill the gap between prospects' need for additional information and the "commitment" of filling out a form or calling to ask questions.
I think I'll wait a week for that information…
Said no one in the past 15 years.

It is hard to imagine now, but there was a time when trade magazine ads did not show phone numbers, encouraging prospective customers to write to the manufacturer for additional details. Today, your prospects and customers want to get their questions answered in real-time. Live chat gives you that capability. Live chat is fast and efficient

Speed is important to your potential customers. A 2017 McKinsey study "When B2B buyers want to go digital—and when they don't" documented that slow response times are buyers' top complaint.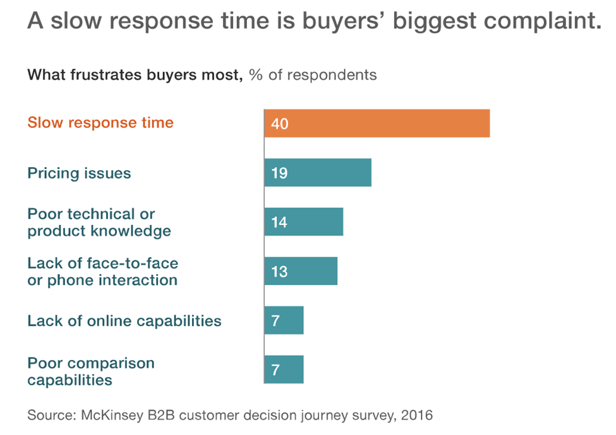 What is live chat 💬 exactly?
At its most basic, live chat is software used to engage with visitors to your website via "instant messaging". One of the hallmarks of live chat toolsets is they can easily be "plugged into" virtually any website with a modest bit of programming required.

Live Chat is a dynamic way to connect with visitors because there is a true back-and-forth, one-to-one connection in real time.

Allowing prospects to take part in a discussion with knowledgeable employees at an extremely high-tech manufacturing company helps turn visitors into leads. United Titanium has a rich and somewhat incredible history of custom manufacturing components out of high strength exotic metals. But still, every prospective customer needs to vet his or her own requirements - because those requirements are the only ones that matter.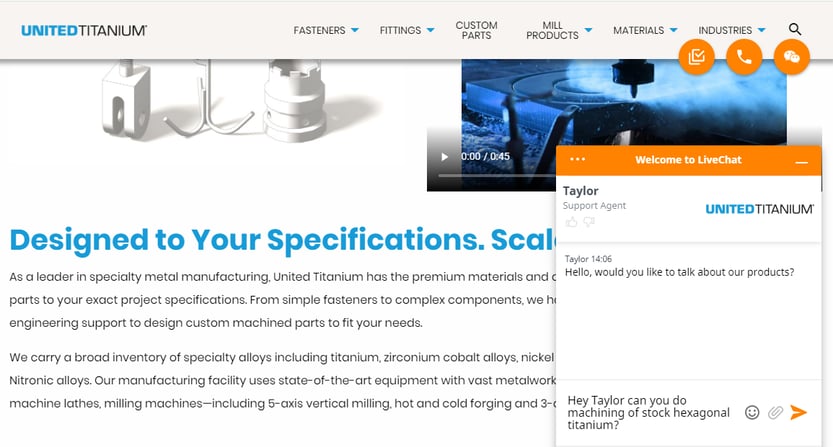 TKG's digital marketing team helped United Titanium create a strategy resulting in 4700+ leads within a year, in part driven by 150+ live chat conversions each month.

Live chats combine several of the qualities of both email and phone lead generation.

Like email inquiries, you see a written description of the customer's question. Customers may even be able to exchange prints or add other attachments to provide clarity.

Live chatting with web visitors also includes some aspects of phone call-based support. Site visitors appreciate getting personal attention from a knowledgeable representative on their schedule.
Enhancing Lead Generation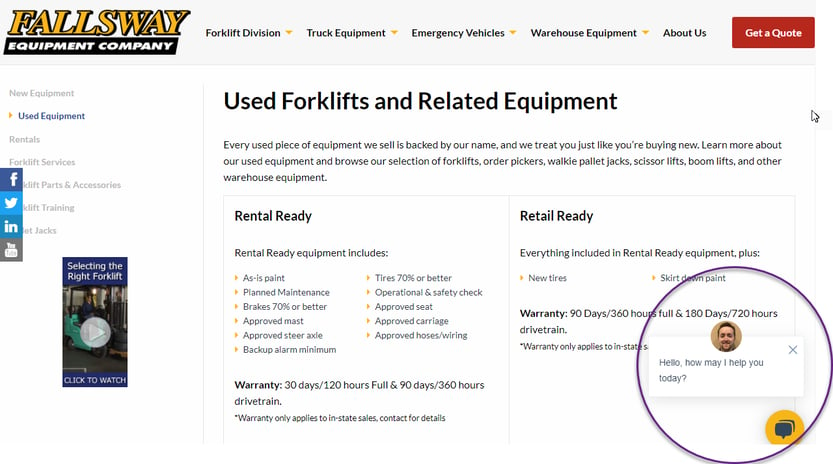 TKG client Fallsway Equipment is an Ohio-based forklift dealer providing service and sales of new and used lift trucks and other heavy equipment throughout the Midwest. Live chat allows Fallsway to answer questions immediately, creating a personal touch with the customer right away.
At the same time chat agents can quickly qualify the lead and gather information providing follow up opportunities. Chat session operators can even encourage "off-chat" communication via a phone call or email exchange once a prospect has been engaged.
By using some ready-made scripts to cover likely question/answer scenarios, the exchange can be more efficient as a customer service option and lead generation tool.
Another compelling functionality feature can be seen in digital marketing platform HubSpot's capability for live chat conversations with a prospect or customer to be automatically archived.
HubSpot customer relationship management software records the specific interest and details that happen during a chat messaging session. Maintaining this documentation -- right from within your inbox -- makes follow-up more strategic when sending emails, scheduling follow-up tasks and calling customers and prospects.
(Full disclosure: The Karcher Group is a HubSpot Platinum Solutions Partner)
Archiving chat sessions also helps with:
Training additional chat operators

Enhancing your pre-scripted answers

Developing more robust content for your website
Hidden Benefits tied to Ongoing Marketing Goals
This form of question/answer allows your marketing team to understand the exact queries of your visitors with accuracy and speed. This aids in creating evergreen blog post topics based on real-world scenarios. It also aids in developing factual FAQ content based on recurring questions seen via chat.

Incorporating live chat on your website allows salespeople, or even engineers, to help prospective customers see your company as a qualified vendor and ultimately, sell your custom components or customized solutions.
Improving site response rates is a game of inches
There are far more visitors to your website that will not "raise a hand" with the 2 most common methods of lead generation – an inquiry/RFQ form or phone call. For the other 98% of visitors that are not yet ready to engage in either a phone conversation or filling out a request for information form on the site, you are basically giving in and quitting on engagement.

As the McKinsey study showed: "Even when customers are doing extensive online research, there usually comes a point when they want a question answered quickly. This could be online, through the company website's FAQs or product pages, or through contact with a real person. Yet most B2B companies have yet to perfect their online content to answer all questions, and even fewer have reconfigured their traditional inside sales channels or web-chat tools to deliver highly technical expertise on demand."

If live chat allows your sales/engineering team to address questions from only 2 more people (out of every 100) who visit but aren't yet ready to "fully engage" You've effectively doubled your leads/response rate for the website.
But what if we're too busy to chat?

It is understood that staffing the live chat capability 24/7 is NOT a likely scenario for most custom design manufacturers. As helpful as chat messaging can be, it may be an option only available part of the day. One of the standard features of live chat software is the ability to set up on/off states which show different messages providing visitors with both information on your chat agent's ability to interact and a method to leave a message when that chat agent is unavailable.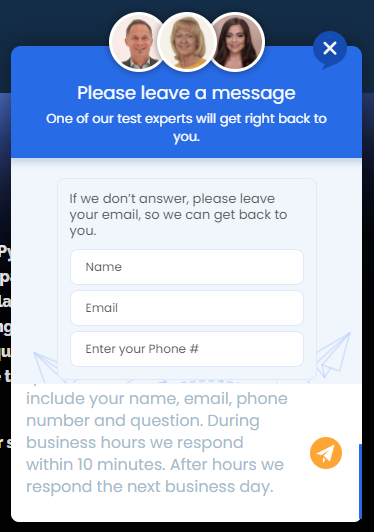 Flexibility and customization to help prompt discussions
Live chat software allows you to offer different prompts based on specific pages visited or length of time spent on your website. Being creative with both your engagements and the offer of help can help you win more opportunities to interact with prospective customers.

Because chat agents see the page a visitor is on and can (if desired) initiate a chat request from their end, a savvy agent can tailor messages specifically to those visitors based on content they are viewing.

Recommending a specific blog post or providing a link to a highly related lead magnet can help messaging feel extremely relevant and provide chat agents / sales reps a way to customize their conversations with site visitors.
Take away the risk for your visitors
Offering a "low risk" way for prospective customers to engage with your sales/engineering team helps smooth the path toward that coveted RFQ. Live chat helps both the buyer and seller develop a relationship and mutual understanding.

If you aren't using live chat on your business website yet, it's not too late. Give us a call, shoot us a line or better yet, engage with the LIVE CHAT option here on the TKG website. We'll help you better understand what the options are for your website and your business.