When it comes to social media, it's important to be – you guessed it – social with your audience. So, if your current strategy on Facebook is to post once in a while and cross your fingers for comments and shares, I've got to be honest. You're doing it wrong.
Especially on Facebook, your content should spark a two-way conversation. Show your audience you're listing to them and respond to what they have to say.
When you post on Facebook, you're not putting content out in a vacuum. You're joining an active, constantly evolving social sphere. Staying relevant takes time, effort and a bit of luck.
Fortunately, following a daily community management process is a great way to build time into your schedule to check in with your audience, answer questions and have some fun. It's not too difficult once you get the hang of it, and I'll walk you through everything you need to know.
Okay, here it goes!
The Daily Check
At minimum, I recommend checking your Facebook page once in the morning and once before you leave at the end of the day. If you anticipate particularly heavy engagement, a check around lunchtime is helpful for ensuring timely interactions.
While social tools are helpful for post scheduling and audience listening, I do community management manually. I've found out (mostly the hard way) that interactions can fall through the cracks when you rely too heavily on automation.
This is the process I use.
Log into Business Manager
Visit business.facebook.com to manage your page. Just log into your personal account and select the Business Manager you want to work on. Your view should look like the screenshot below. If you don't have a Business Manager account set up, don't panic. We can help.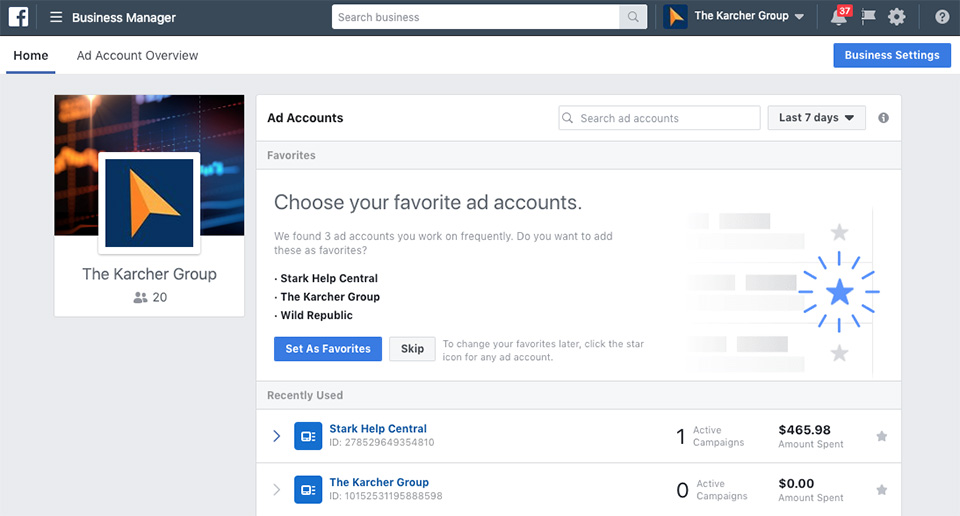 Check your inbox and notifications
Especially if there are multiple members of your team with access to your page, you can never totally rely on the alerts you see when you log in. It's possible that someone else cleared your notifications before you got the chance to review them.
I always recommend visiting your page directly and reviewing all recent posts. It's a good step to make sure you don't miss anything. During these checks, there are a few things to look for:
Make sure all posts are displaying correctly with no broken links or images.
Check for comments, mentions and replies. These are the types of engagements you want to respond to.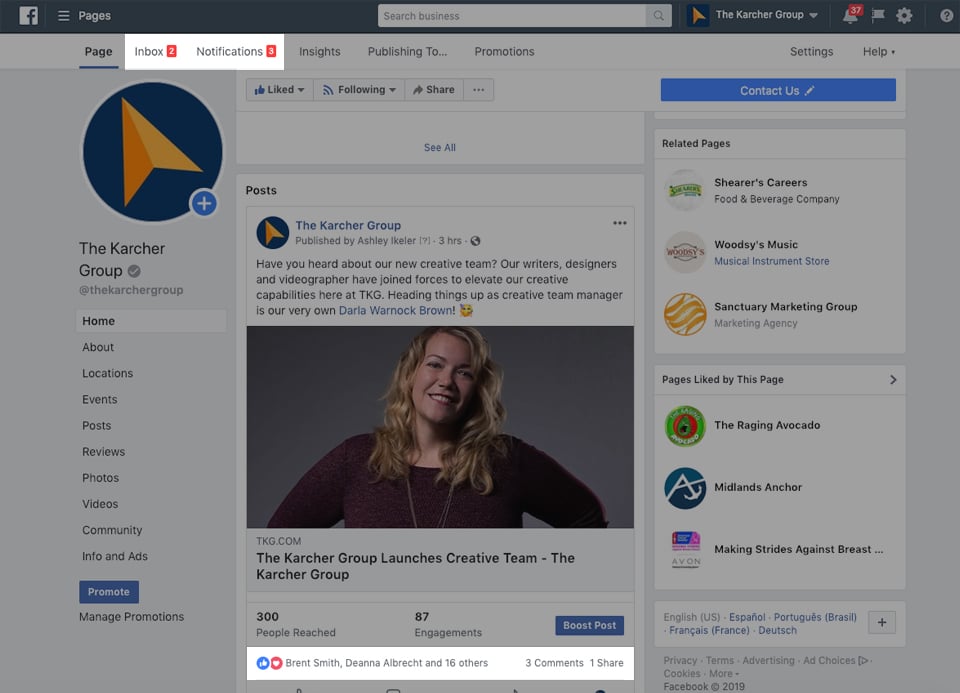 Responding to audience interactions
When you respond to notifications and messages, make sure your logo appears as the profile photo before commenting. You want to hit the reply link before you respond; otherwise you'll end up starting a new comment thread (not a good look). If you're not sure what to say, don't worry. I'll cover that a little later.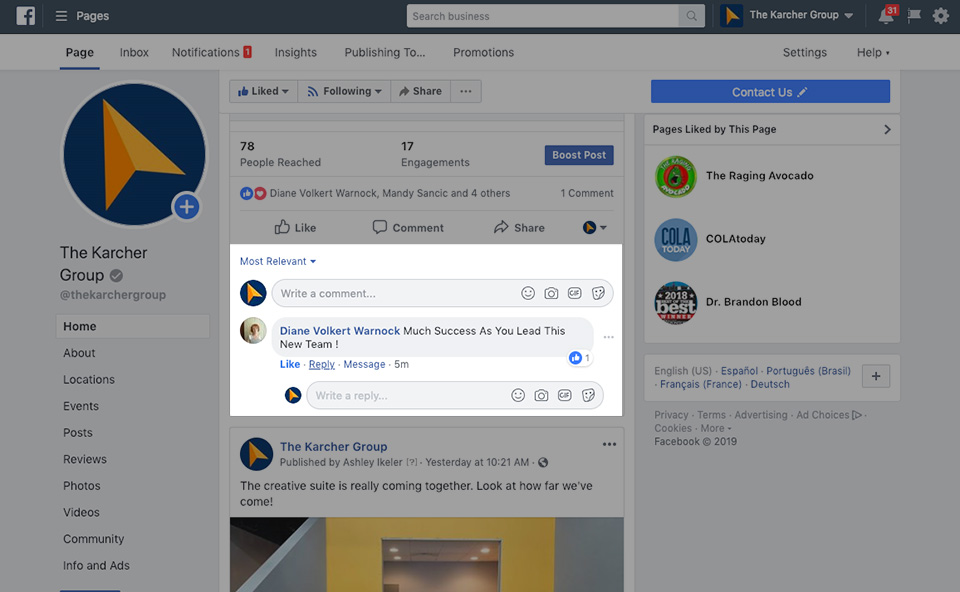 Don't forget to check for visitor posts
This is one of the most common issues I see with my social clients. They respond to engagements on their own content but forget to check for posts from their visitors. Just click the Posts tab on the left side of the page and review the Visitor Posts on the right. When one of your customers posts on your company page directly, this is where it will appear.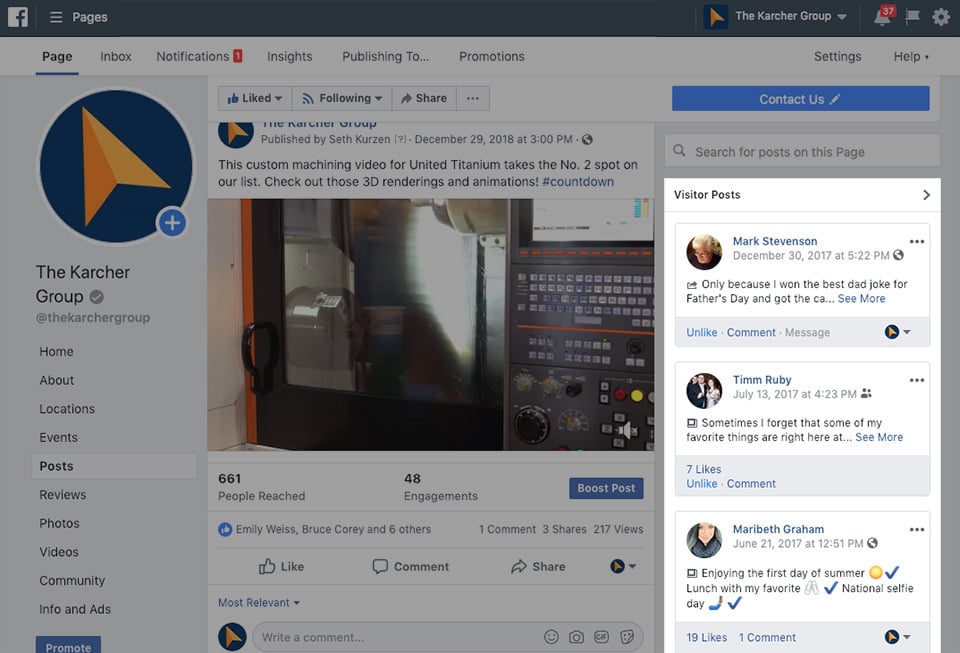 Search for more opportunities
Once you've posted fun, witty responses to your best audience engagements, it's time to go on the lookout for conversations to join. Now you can switch out of Business Manager and back to your standard Facebook view.
For a marketing agency like us, you might search for terms like "social media," "web design," and "SEO." Look for branded keywords as well in case someone posted about your business but forgot to tag you. We look for posts containing "The Karcher Group" and "TKG."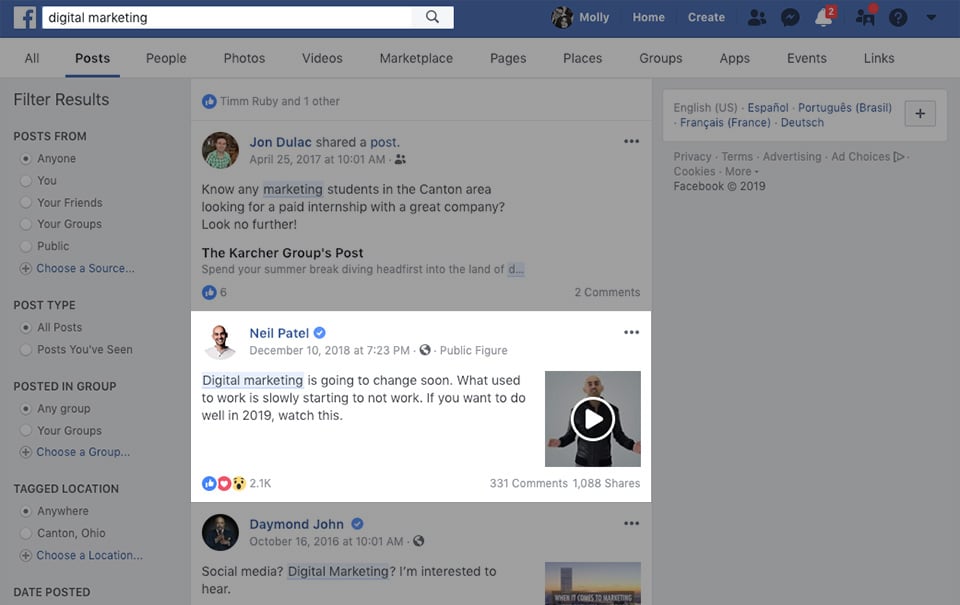 To post as your business on another page, you'll need admin, editor or moderator access. Keep in mind, a user's personal profile isn't the same thing as a page and won't allow you to post as your business.
Follow these steps to like or comment on another company's page:
Go to the post you want to like or comment on
Click your profile picture in the bottom-right corner of the post
Choose the page you want to like or comment as
Like the post or submit your comment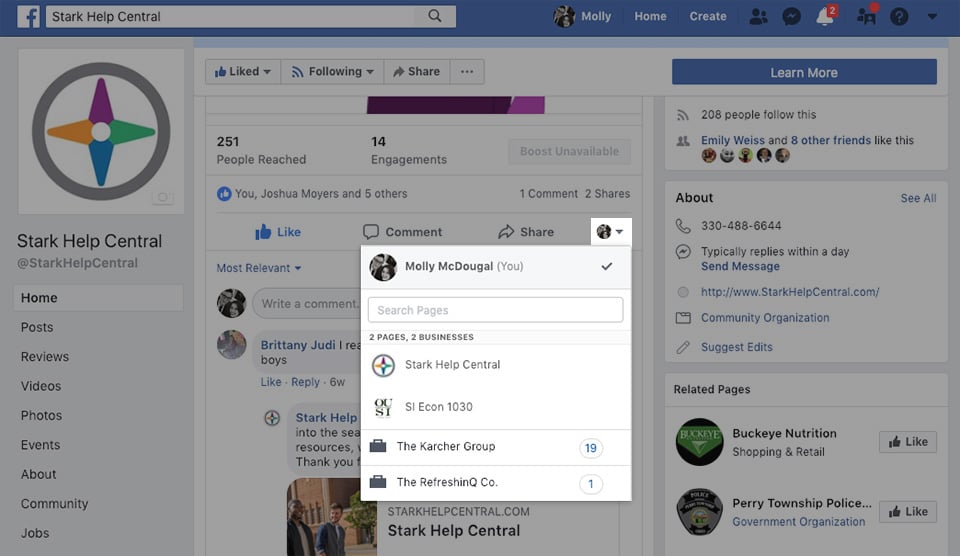 Follow these steps to post on another page as your business:
Go to the page you want to post on
Click your profile picture in the top-left corner of the posting area
Choose the page you want to publish as
Create your post
When To Jump In and What To Say
Now you know the mechanics of a daily Facebook community management check-in, but you might still feel confused about which posts and comments to engage with. And even if you feel confident about the posts you want to respond to, you might not know exactly what to say or how to say it.
Here are some tips.
Share the love on positive posts
When a user speaks enthusiastically about your brand, offer up an equally positive, personal response to keep the conversation going. Questions and open-ended comments work well when interacting with positive posts.
Example: "We're glad our latest article helped you solve your marketing challenge!
Are there any other topics you're struggling with?"
Don't shy away from negative comments
This one's tough, but it's important not to let negative comments go unanswered. Your audience cares enough about your product or service to reach out. Show them you care enough about their experiences to respond. It's often a good idea to reply to these comments in a way that acknowledges the user's complaint and guides the discussion offline.
Example: "We are so sorry to hear that. We'd like to look into this further, so we can make it right. Please private message us with a contact method where we can reach you."
When to delete visitor posts and comments
You don't want to interfere with audience posts if you can help it, but if a user puts spam or offensive content on your page, it is acceptable to hide or delete it.
When you delete a post or comment, it removes it from Facebook entirely. If you hide a post or comment, it will still appear to the person who posted it and their friends, but it will no longer show up on your company page.
Bottom line: You don't want your audience to get used to seeing junk content on your page. It can damage your credibility and overall brand perception.
One Last Thing...
During your daily community management, regularly engage with influential Facebook pages. Think national industry organizations, popular bloggers or podcasters – anyone with a prominent social following who makes sense for your target audience. Share their posts, link to their websites or message them about possible sponsorship opportunities. An influencer shout out can go a long way in growing your social community.
That's it from me. Contact us if you have questions or additional insights. Happy Facebooking!