Leveraging SEO and Web Design for Manufacturers
.
How we helped a manufacturer raise their bottom line via online lead generation
Combi Packaging Systems came to us nearly 10 years ago to help grow their business online. As a subsidiary of 3M, Combi has aggressive sales goals. These expectations can seem especially daunting when combined with a longer sales cycle. Before they ever make a sale, Combi needs to build relationships with clients and truly understand their goals and challenges (we know the feeling).
Over the course of our partnership, we've implemented diverse digital marketing & web development strategies to turn Combi.com into a powerful lead generation tool. We knew that if we could get qualified prospects to the website or in front of one of Combi's salespeople, it would save them time, shorten the sales process and get them closer to their goals. Now the website – along with an elevated brand identity – helps to attract more than 100 leads per month with 18 percent growth year over year.
Visit Site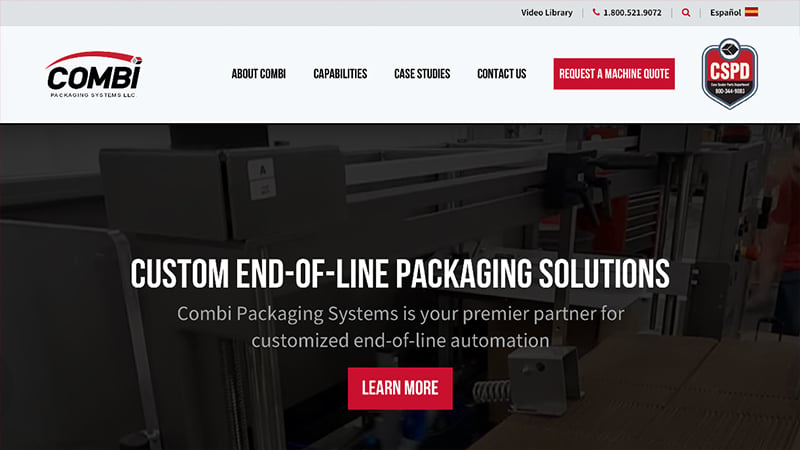 Digital Marketing Goals
Bring in the right kinds of leads
Combi's marketing plan needed the endurance to withstand their long sales cycle. We had to get in front of prospects repeatedly to remain top of mind in key decision-making moments. SEO and Advertising are used to attract prospects, followed up with good social and marketing automation to engage them.
Move the brand forward
When Combi made plans to move their expanding operations to a new facility, it was the perfect time to revisit their brand so the market had an easy time understanding that they had become the leader in their industry.
"
"The Karcher Group offers invaluable digital marketing expertise, especially in the areas of branding and SEO. Their team is knowledgeable, responsive and committed to supporting our business growth. We consider them a true partner and an extension of our marketing team."
JOHN FISHER, FORMER PRESIDENT AND CEO, COMBI PACKAGING SYSTEMS
Strategy
Data-based digital marketing
To get Combi in front of the right people at the right time, we've employed several tactics throughout the years, including content, SEO and constant website improvements.
Packaging the right brand
Not only did we expand Combi's digital footprint, we created a new brand identity, website and advertising strategy. All with a true focus on generating leads.
RESULTS
.
12,000+
leads in 12 months
$2M
sold online in five months
82000
website visitors this year