Plumbing experts educate their way to more leads
When businesses hear the word "content marketing," many of them—if they don't feel overwhelmed by the term—ask the question, "Where do I even start?"
But for our client, Superior Drainage, it was easy to answer that question.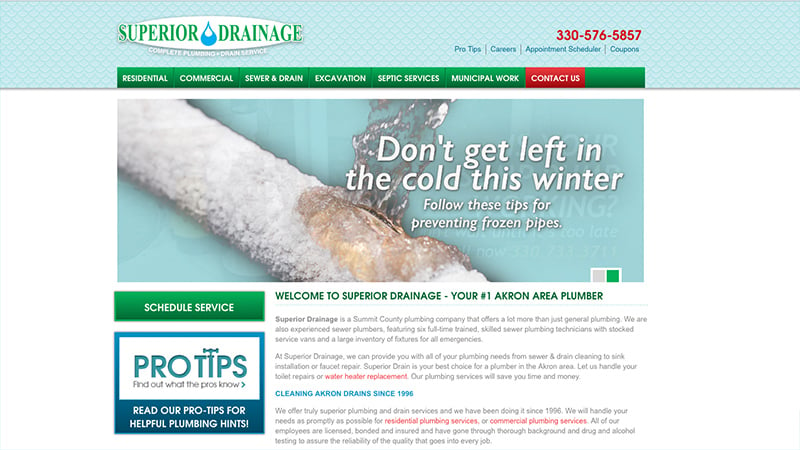 Visit Site
Bridge the gap with content
Home maintenance and improvement, especially plumbing, is part of the "great unknown" for the average homeowner. On top of not knowing how to fix even minor problems, many homeowners don't understand the costs associated for hiring a plumber.
Superior Drainage has long been a company that has prided itself on its extreme professionalism and customer service. They've committed themselves to building long-standing, trustworthy relationships with customers. But there can be a gap for customers between having a problem and calling a new plumber they don't know yet.
So, our solution was to bridge (or close) the gap between "problem" and "trust" with educational content.
Give your customers what they need
We worked closely with Superior Drainage experts to help educate customers about everything from why you shouldn't "jiggle the handle," to pros and cons of tankless water heaters to when you should call a plumber.
While potential customers might be able to find this information elsewhere on the web, reading it from the perspective of the very plumber who might be fixing their septic tank the next day lends credibility and trust to the brand.
Plus, they can read up on other information that could save them money and even eliminate the need to hire a plumber…a move that might seem risky at first, but in fact gives Superior Drainage even more clout.
Educate, grow, repeat
Year over year, we continue to see monumental gains with leads through the Superior Drain Pro-Tips section of the site. Customer use both the contact forms to ask questions, as well as the convenient 24/7 calling, and continue to do so as we work to add even more Pro-tips to the site.