E-commerce SEO & HubSpot Case Study
See how we leveraged SEO, PPC and Marketing Automation to grow sales
Our friends at Slick Woody's, a manufacturer of premium cornhole boards and other tailgating activities, came to us looking for SEO support for their e-commerce website. Needless to say they are a great culture fit for TKG so we were excited to dive in. They also happen to be neighbors, they manufacture right here in North Canton.
Slick Woody's in years past, had many fundamentals in place. Their leadership had been hands on with the execution of a written and video content effort as well as optimization of a good bit of that content. However, as their business grew they needed some more hands on deck to rebuild and maintain their SEO momentum. That's where we came in.
After doing our initial marketing research that included keyword research, competitive benchmarking, etc. we came to Slick Woody's with a plan for TKG to partner with their talented team to fill in the gaps and begin an enhanced search engine optimization initiative.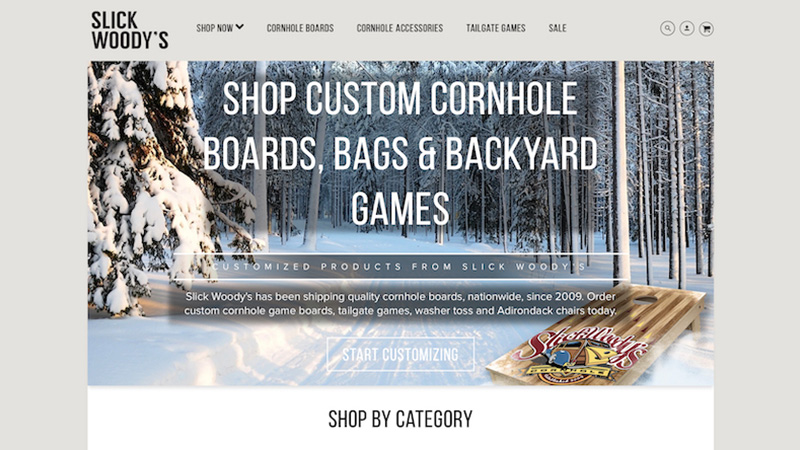 "One of the best things that TKG has to offer is having a deep line-up of specialized people to execute every piece of their strategy"
They also had a domain name that was inconsistent with the brand. After careful consideration, we decided it was in their best long term interest to update their website look and feel and implement a domain transition plan. As anyone familiar with SEO will validate, changing domains is a very dangerous proposition that can devastate a website in the eyes of Google. We made it clear that despite implementing a ranking retention strategy to minimize the impact, they should still expect to see a drop in traffic and sales in the short term. They did initially but soon the traffic returned and they were gaining momentum. By the end of their first year of working with us:
End of first year SEO & PPC ROI
increase in website users (visitors) from organic sources
As our partnership with Slick Woody's grew, they entrusted us with other aspects of their digital marketing including HubSpot marketing automation. Within months, email marketing was performing better than it ever had been:
Results of added email marketing
increase in website traffic from HubSpot
increase in revenue from marketing automation
increase in orders from marketing automation
In year two they gave us the opportunity to manage their digital advertising campaigns on Google, Facebook, and Amazon. There is a big difference between "running PPC ads" and actively managing a multi-channel digital advertising strategy. Within months there was a dramatic uptick in performance. We increased their return on ad spend from less than 4:1 to 9:1 and their digital advertising quickly became a primary driver of a record year in sales. After two years of working together, we achieved the following:
Results from SEO, PPC & HubSpot together
increase in sales from organic sources
With results like these, we earned the trust of their leadership team and look forward to delivering for them for decades to come. We can't wait to watch this business continue to grow and dominate the cornhole and outdoor entertainment space.