Decades of healthcare with a personal touch
Ritzman Pharmacy has been caring for the health and retail needs of northeast Ohioans for over 65 years. In fact, its founder was known for not just his pharmaceutical prowess, but also for how he treated each person in the community with individual attention and respect.
Ritzman specifically came to us, however, because their brand and web presence no longer matched their explosive growth or their core values. They needed help clearly defining their "why" as well as creating a digital marketing strategy that reflected their business accurately and brought in real results.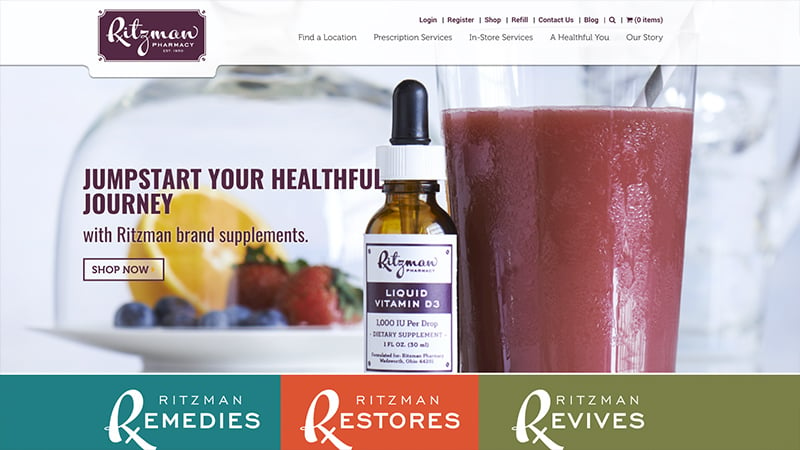 A modern approach to a historical profession
At the outset, the creative challenge was to reflect Ritzman's ties to a time when going to the pharmacy wasn't just about grabbing a prescription and a gallon of milk. They wanted to stand out from the big box stores and standard pill counters and bring personality, a human face and a story around the Ritzman experience.
Most importantly, they wanted to channel their founder's attention to the individual by providing a modern approach to customization…all without losing the small town, nostalgic qualities that made them unique in the first place.
"Modern nostalgia" for today's customer
From giving the website a "modern nostalgia" feel, to helping them launch and promote in-store events and learning experiences, to simply conveying the message that every Ritzman pharmacy is home to a healthcare professional who personally educates customers on their medicines, our goal was to tell their story in a new and compelling way while reaching new audiences and increasing sales.
RESULTS
.
267%
increase social traffic year over year
1,900
increase in Facebook followers
16%
new site user growth year over year