Helping Rice's Grow online
.
How we helped and established Ohio landscaper plant new roots with digital marketing
While enduring major changes in the landscaping industry, Rice's Nursery & Landscaping knew it was time for their business to evolve. As they shifted their focus from products to partnerships, the company transformed from a community nursery to a premier landscaping company.
To effectively adjust their marketing, we quickly discovered that simple website updates wouldn't be enough. We needed to elevate their entire brand identity. Together, we shortened their name to Rice's, redesigned their existing logo and launched a new website to reflect the luxury company they had become. Rice's was, and continues to be, North Canton's premier provider of custom, high-end landscapes. That was the story we needed to tell.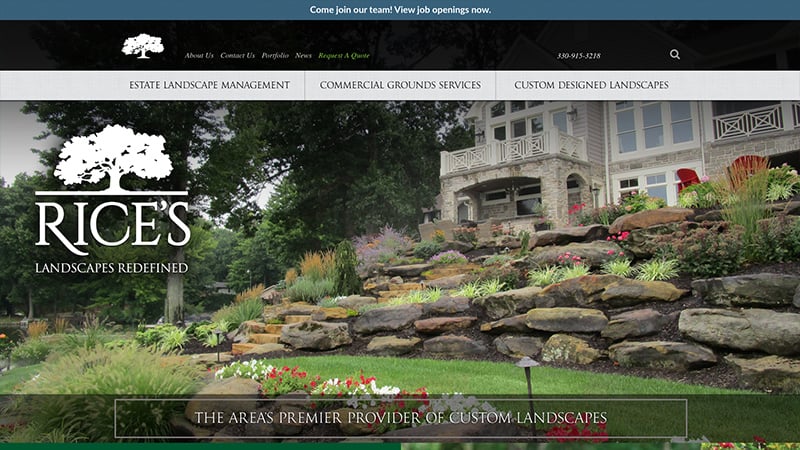 Visit site
Branding & digital marketing goals
Manage misconceptions
When we started, Rice's was not positioned as a true landscaping partner. We needed to cater the message to the right audience and develop a narrative that reflected their vision for the future.
Garner the right types of leads
Their previous website was generating leads, but not for the types of relationships Rice's was seeking. To create more valuable conversions, we had to streamline the website and our marketing approach.
"
"This process is not for the faint of heart, but neither is business. We needed to change and TKG provided the guidance and tools to make that happen. Change is uncomfortable, clunky and a pain to do, period. My dad once told me 'the world is changing all around you. Either you embrace the change or get left behind.' We chose to embrace the change with a partner we trust – The Karcher Group."
Bryan Rice
President, Rice's Landscapes
Digital marketing strategy
Match the brand to the business
Through market research, creative insights and careful planning, we narrowed in on a refined brand identity that would lead to better, more purposeful audience interactions.
Market the message
It wasn't enough just to launch a new name, look and website. We drove traffic, amplified awareness and changed the conversation through a multi-channel marketing campaign.
RESULTS
.
1,000+
high-quality form and phone call leads in just a few months
47%
increase in direct traffic year over year
320%
boost in engagement across social channels