Overview Video & Website Redesign
.
The Partnership
Mac Trailer, a national market leader in aluminum trailers in Alliance Ohio, approached TKG for assistance in developing a corporate overview video. After finalizing the new video, our team, in collaboration with Mac Trailer, promptly shifted our focus to their website. Despite their established market leadership, they required a modern yet streamlined website that effectively conveys their story while empowering their internal team to manage and expand content without incurring agency expenses for routine maintenance. Their primary objectives included retaining and improving their search engine optimization (SEO) rankings, integrating internal applications, enhancing dealer support, and implementing a CRM tool for lead management.
Visit Site
The Challenge & Solution
THE CHALLENGE
Mac Trailer faced some challenges with their existing website, including:
Content Control: A need for greater control over website content without relying on external agencies for general maintenance.

SEO Dominance: Maintaining and improving their existing SEO rankings to continue dominating search engine results.

Internal Application Integrations: Integrating internal applications seamlessly into their new website.

Dealer Support: Enhancing dealer support, both in terms of sales and marketing efforts.

Lead Management: Implementing a CRM tool to effectively manage and distribute leads to dealers.
THE SOLUTION
To address Mac Trailer's challenges, TKG implemented a comprehensive solution:
HubSpot CMS and CRM Integration: We leveraged the HubSpot CMS and CRM as the core platform, providing Mac Trailer with a user-friendly and robust content management system. This not only streamlined content updates but also improved lead management through CRM integration.

Modern Website Redesign: We designed a modern, high-performance website that aligned with Mac Trailer's brand. The website featured a cleaner user interface, making it easier for visitors to navigate and access information.

SEO Strategy: TKG developed a ranking retention strategy for the Alliance, Ohio manufacturer, to protect and enhance Mac Trailer's organic search rankings. This strategy ensured that their SEO dominance was maintained and improved over time.
The Completed Projects
MODERN MANUFACTURER WEBSITE REDESIGN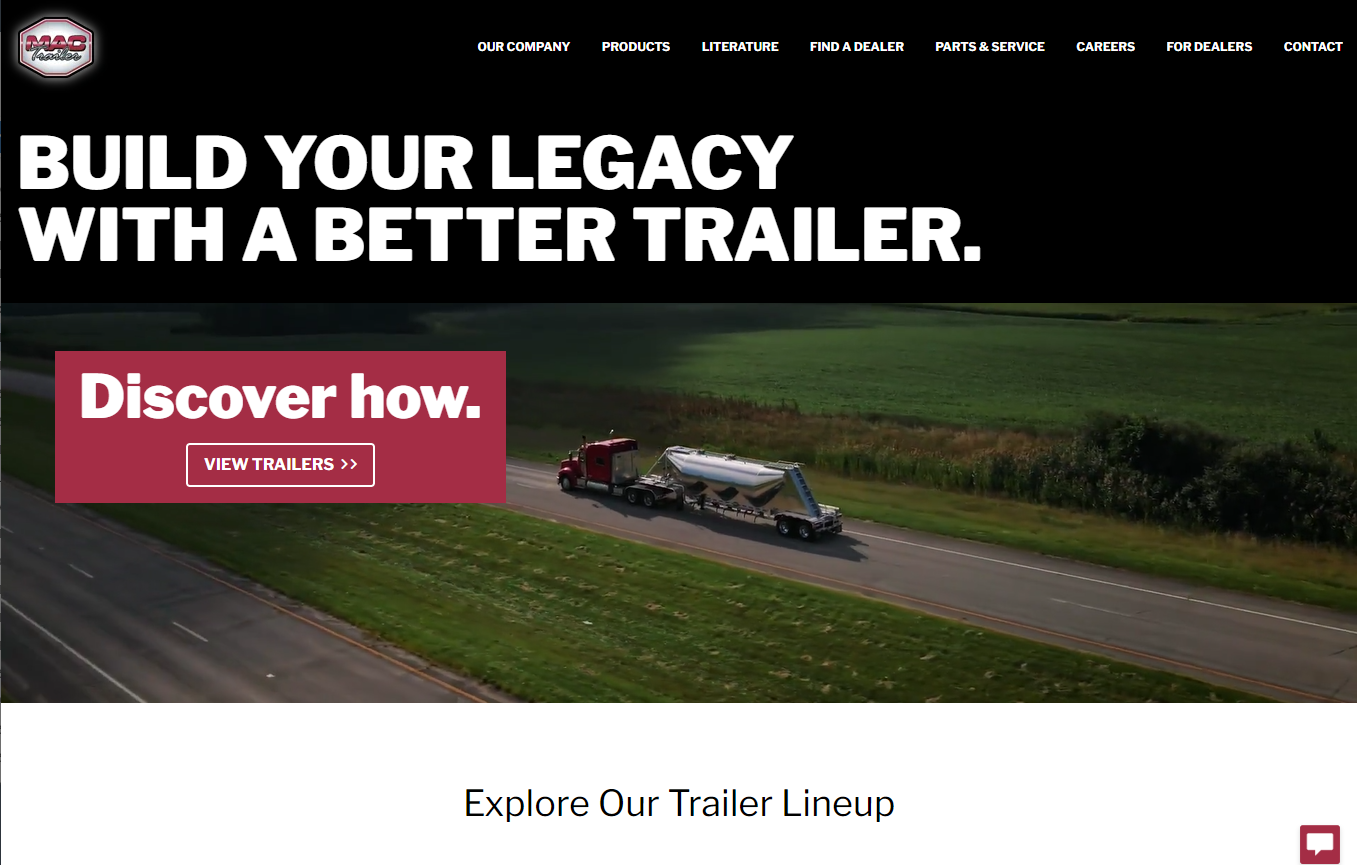 The Results
Enhanced User Experience: The new website at mactrailer.com provides a superior user experience with a modern design, contributing to improved visitor engagement.

Maintained Overall & Organic Traffic: 6 months post launch we have launched an all new UI and re-platformed a market leading website with no loss in organic search traffic.

Dealer Support: Mac Trailer's dealer base reported a stronger level of support due to the content provided on the website. This improved dealer support bolstered their sales and marketing efforts.
Partner with us on your next web design or video project.
Let's talk strategy. We're ready when you are.