Web Design & SEO for Akron Company Fallsway
.
Customer-first company augments relationship building with new web design & LiveChat.
Fallsway Equipment, an Ohio forklift dealer is well-known for their quality and service with lift trucks and other heavy equipment throughout the Midwest. So when they came to us after a less-than-stellar experience with a marketing company that made them leery of paid search and advertising efforts, we knew we had to take a different approach. We had to make sure they were still reaching the right individuals and generating leads with their website and search marketing efforts.
When building their new website, we leveraged a strategy with a keen eye on organic search traffic through quality content and a great user experience. Our goal from the outset was to restore their faith in search marketing because we know the opportunity it represents for both manufacturers and companies like Fallsway that serve the manufacturing base in Akron Ohio.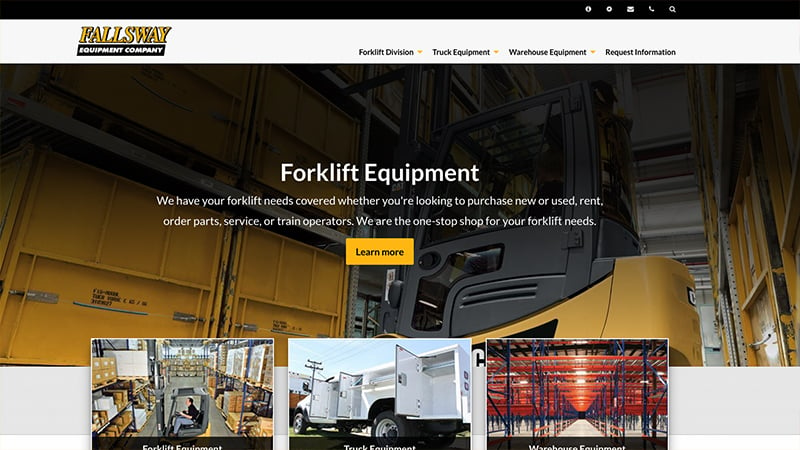 Visit Site
Use chat to get soft leads
One challenge we had was identifying where in the buyer's journey, people were making contact with Fallsway. Had they already researched for days or weeks on this website or elsewhere, or had they just landed on the site minutes before?
While the sales team did their best to determine the answers to these questions, they wanted to focus more on building relationships than gathering data.
So we implemented what has proven to be the perfect "in-between" for the client (and what is fast becoming a necessity for e-comm): a live chat option.
"Worth its weight in gold"
Fallsway's LiveChat option is staffed by a real person from Fallsway (not a bot) and Devin from Fallsway says, "LiveChat has been vital in allowing our company to connect more with our current and potential customers."
LiveChat allows Fallsway to answer questions immediately, creating a personal touch with the customer right away, while quickly qualifying the lead and providing follow up opportunities.
"The addition of LiveChat has added to our lead generation totals immensely," Devin says, "along with adding an additional level of customer service that is worth its weight in gold to our company and our standards of putting the customer first."
RESULTS
.
1000+
leads with LiveChat
29%
increase in traffic year over year