Digital Marketing for Aultman College
.
Century old nursing school increases online awareness and offline interaction
Aultman Hospital is a well-known name in Northeast Ohio, but the nursing school founded by the hospital nearly a century ago, Aultman College, lacked the wider recognition the hospital received. Aultman College needed a clear way to communicate who they were and drive recognition without getting lost in the broader Aultman name.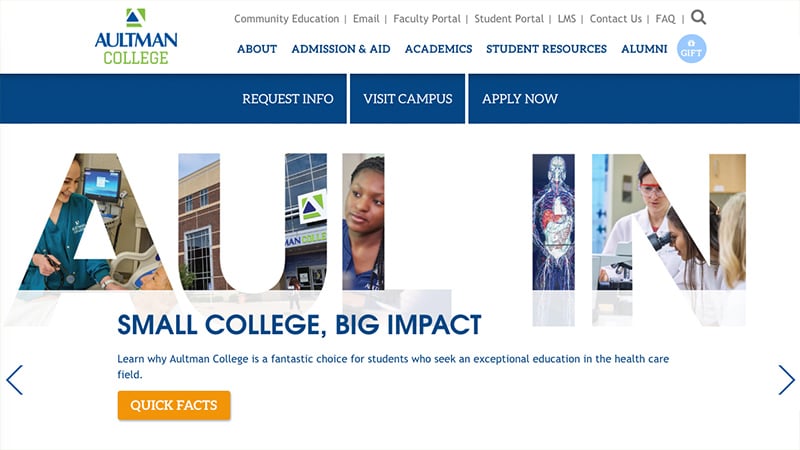 Visit Site
Two-pronged strategy
TKG partnered with Aultman College to build a digital marketing strategy that would increase brand awareness, drive open house registrations ("Preview Days") and lead more prospective students to apply to the college. There were two parts to the strategy: a component that drove online awareness and engagement, and a component that encouraged individuals to take action beyond the click.
Using a combination of social media, digital ads and search engine optimization, Aultman College increased registrations for each Preview Day by 39% (30-40 individuals per event). At each event, they hear prospective students say, "I see you everywhere online," which is a marked change from when their efforts were more heavily focused on traditional marketing tactics.
Better ad spending for better results
Digital advertising has been particularly effective for Aultman College, since the team can make adjustments in real time based on which platforms and ads are generating the best results. "It helps us to spend wiser," said Deanna Wolf, Marketing Strategy Coordinator for Aultman College. "And it helps to point the way for when we do try a new site or platform."
Not only are they seeing more individuals in person on campus for Preview Day events, there has been a 55% increase in website site traffic YOY, which includes more pageviews and more time spent on-page. This metric indicates that individuals are acting beyond simply recognizing the name and brand and taking time to learn more about the college and what it offers.
Overall, leadership at Aultman College has been so pleased with the results, that, "we have shifted most of our advertising efforts toward the online arena. These tactics will definitely be used in the future."
RESULTS
.
39%
increase in Preview Day registrations
55%
increase in traffic year over year