James Golden
Vice President of Web Development
James was known around the office for being the"pretty boy" - when he had hair, although he remains"pretty" versatile. Aside from development, he's capable of "crossing the line" when it's time for jokes. And if you get caught in one of our brain fights - watch out, because James can send you home with a limp.
James considers himself a web developer in every sense of the word. He finds himself accountable for defining the user experience, the information architecture and the graphic design -- all prior to getting his hands dirty coding the markup that adheres to standards, semantics, accessibility, usability and natural search engine best practices. If he's not doing that himself, he's guiding the rest of the team to get it done for you.
You can also catch James teaching our TKG Institute (a free and volunteer-based educational course on HTML and CSS), speaking at our SEO seminars series on HTML Optimization Basics and on his Web Development contributions to TKGenius where he talks about accessibility, usability, markup and more. He's also been involved in helping organize The Cleveland Area Web Standards Meetup Group and the Cleveland Web Standards Association (based on the meetup group). He lives, eats and breathes this stuff, folks!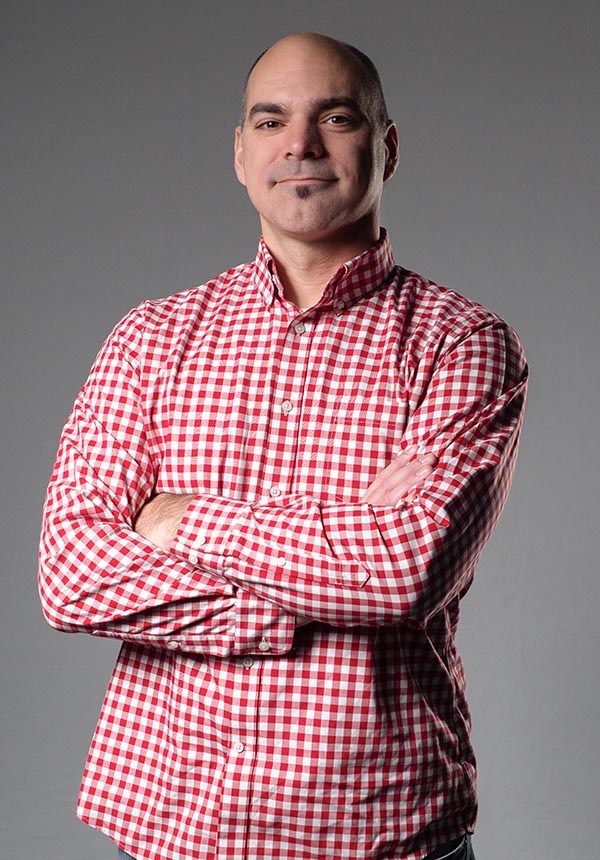 Where he gained his knowledge
Right Here. He's been with the Group for about 14 years now, college happened to be wasted time for him (accounting, civil engineering, electronic engineering -- what the..?) ...so through real-world application, he's got grassroots experience at building the best Web sites in the industry for you.
Planning/Information Architecture
Design
Front end markup
Accessibility
User experience
When not at work, James's life revolves around
Being inspired by his family: Jen, Tess, Tate, Miles and dog, Kota.
The outdoors - traveling, camping, skateboarding & snowboarding
Most anything art-related
Tinkering with his home (still)
More web development
Loves cheesecake & argyle socks (always on the Christmas list)
His childhood nickname was (and still is) Jimi John
He's generally shoeless around the office
He's usually singing in the kitchen
At night, he dreams of visiting New Zealand